Ford has a TV commercial for their SUVs where they say "Be Unstoppable".
Unstoppable.JPG
Every time I hear that the first thing that comes to mind is back in 1984 when the brakes failed on my 1963 Falcon.

"Be Unstoppable' Mantra Captures Spirit of Ford SUVs in New Explorer Ads"
See:
http://www.at.ford.com/news/cn/Pages...%20Spirit.aspx
Is it just me, or does that slogan sound like they are describing a runaway freight train?
Or maybe a Peterbilt rolling down a mountain pass with fading brakes.
__________________
Dennis Pierson
Tampa, FL
"The Wonder Falcon"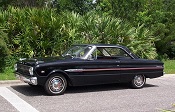 '63 Futura Hardtop (260, Ford-O-Matic, bench seat)