Well...actually Nash Cooper. James "Coupe" Cooper and his wife Jenn had a baby boy named Nash on May 10th!
Read all about it at
http://nash.icebox500.com
as well as his motorcycle crash and surgery that nearly caused him to miss Nash's first birthday!
Congratulations Coupe and Jenn! Can't wait to meet you all soon...
__________________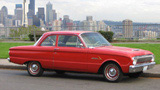 Kenny Likins
Ballard, Seattle, WA
www.redfalken.com
`62 Tudor Sedan (`69 200, C4, 8-inch 4-lug 2.79 rearend, Duraspark II, MSD, Weber 32/36 DGEV)