My youngest daughter helped bleed the brakes. I eyeballed the alignment and took the wagon out for a few blocks. Other than the carb needing a clean out, it felt good. The spring height looks fine and since they were previously used by Roger in his Ranchero, they probably won't settle like new springs would.

I will bring to Trueline in a few weeks for a real alignment and steering box assessment/adjustment.

I should probably mount the Monte Carlo bar and under engine brace first.
__________________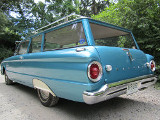 Jeff Watson
Seattle, WA
'63 Tudor Wagon (170 - 3 spd.)