Here's all the info you should need:
http://www.classicinlines.com/SmallSixSpecs.asp
It has to be done in 3 steps of increasing ft./lbs. and also in a specific sequence. You should also chase the threads in the bolt holes to make sure they're clean and use some Moly lube.
Also, there's a bolt on the front that will go into the blades of the water pump if you're not careful. You may need to grind a little off to make sure it clears. That bolt is also wet so you'll need some sealer on it.
You may know all this but I thought I'd throw it out there just in case!
__________________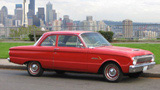 Kenny Likins
Ballard, Seattle, WA
www.redfalken.com
`62 Tudor Sedan (`69 200, C4, 8-inch 4-lug 2.79 rearend, Duraspark II, MSD, Weber 32/36 DGEV)