I had a broken pawl in my old Ford-o-Matic but ended up replacing it with the C4 so never did the repair. If I recall, you would need to drop the pan but could leave in the valve body. Once you get the pan off it should be pretty obvious.

Before you do that, I would disconnect the linkage and try to move it into park to see if it engages. Just to rule out the linkage needing adjustment.

Not a lot of info out there on the Cruise-o or Ford-o matics. And not many shops out there know how to work on them or at least from asking around and talking to shops here in Seattle.
__________________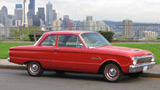 Kenny Likins
Ballard, Seattle, WA
www.redfalken.com
`62 Tudor Sedan (`69 200, C4, 8-inch 4-lug 2.79 rearend, Duraspark II, MSD, Weber 32/36 DGEV)