Troy,

These holes are that big because you may have to really move the front of the fender around a lot to get it to align with the hood (both level with and gap wise) and make it wide enough between the fenders for the grille and rocker panel. These bolts are hidden behind the grill, so you may not actually cover the entire hole with a bolt, but you won't see it.

Sadly, as is usually the case back when they built our cars that the bolts were left sort of loose, but tight enough to hold when moved, and when you've test fit the fenders to the hood and grille to the fenders, you then tighten them down and EAT INTO THE PAINT TO THE METAL.

In 65 they used the bolts with the large star washers. I wrapped the backs of my bolts with strip caulk (the black tar rope stuff) and it oozes out and pretty much protects the bare metal the bolts cause. On the upper fenders I used stainless washers under the star washers to prevent the paint from getting chewed up.

I don't know where they thought the fenders were going to go if they were not practically fused together with those bolts.
__________________
Roger Moore
63 "Flarechero"
powered by: '65 289-V8 | T5 | 8" TracLoc rear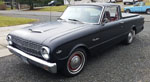 ---
Last edited by Luva65wagon; 02-07-2010 at

09:42 PM

.